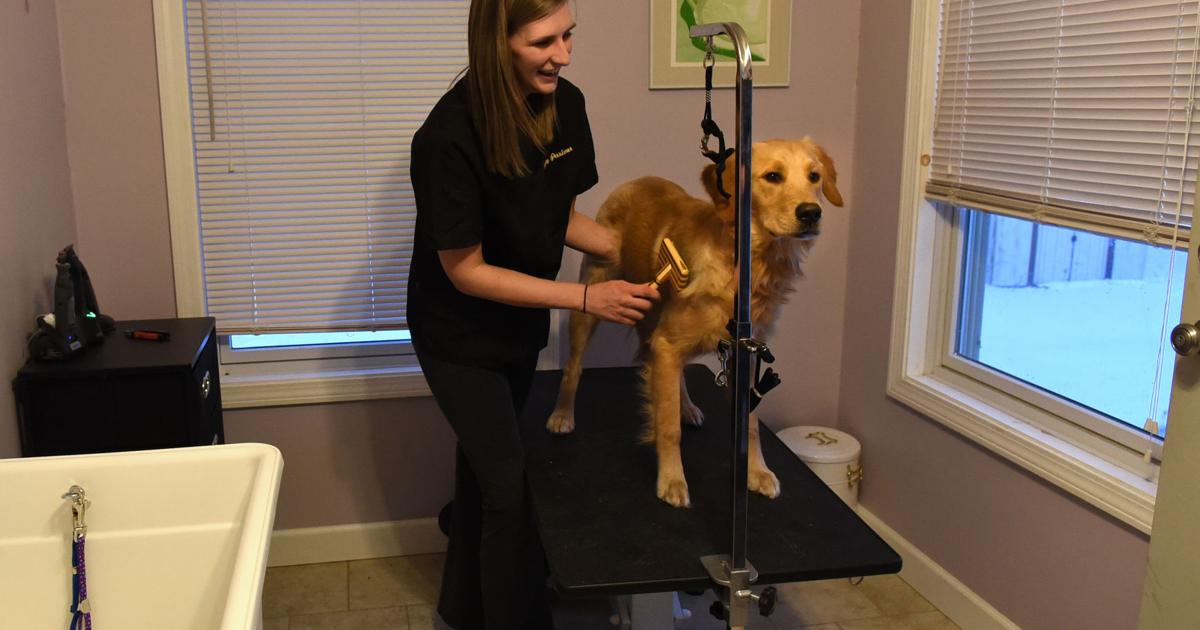 Brianne Neabel has been quite the canine companion.
Born and raised in Auburn, Neabel has spent her entire life surrounded by dogs, both at home and at the local shelter where she has volunteered. And for years, she opened her heart and mind to man's best friend, rescuing pit bulls on the streets of Syracuse and South Carolina and studying psychology and animal behavior at St. Bonaventure.
Now she has also opened her house to them.
On Jan. 1, Neabel officially opened the Puppy Parlor, a dog grooming business in her home in Auburn — something she's dreamed of for years.
Neabel, 25, has been professionally grooming dogs since 2013. After graduating from college, she says, she came across a PetSmart ad looking for a dog bather in the Syracuse area.
"I've grown up with dogs my whole life, so I've always been an animal person…and it only made sense for me to work with them," Neabel said. "So I applied and got the job, and then I fell in love with it. … It's like I have free therapy dogs all the time."
Neabel said she trained for two years at PetSmart, which taught her a "good foundation" for grooming. Then, in 2015, she and her husband, Nick, moved to North Carolina, where she worked for private salons. And while Nick was training with the military, Neabel began to hatch the idea of ​​having his own business.
"It's always been in the back of my mind," she said. "But then I felt comfortable working with other people."
Neabel said she ultimately tabled the idea for another two years. Then, last year, she and her husband received some exciting news: the couple were expecting a baby.
That's when Neabel decided to move back to Auburn, she said, so she could be with her family while Nick was deployed. And that's when his business became a reality.
In August, Neabel received approval from the city of Auburn to start a dog grooming business out of his home on Richardson Avenue. And in January, about three months after the birth of her daughter, she opened the Puppy Parlor.
"Looks like we needed it at Auburn," she said. "There are a few other salons, but I hear they are full or they don't take big dogs, and I have an open schedule and accept all dogs."
With a large driveway for off-street parking, guests can walk into the living room at the back of her home. There, Neabel has about 80 square feet of space, with a brand new tub and table.
For now, Neabel said, grooming is by appointment only. Owners can schedule anything from a quick nail trim or grind to a full bath, blow dry and trim. She asks clients to drop off their dog — with proof of rabies vaccination — so she can work with the animal one-on-one. And for those who are reluctant to leave their dog alone, Neabel said she plans to install a camera so owners can livestream the grooming.
"A lot of people are nervous about leaving their dogs with groomers, so the camera would put you at ease," she said. "That way you can watch from home while I work on your dogs."
So far, Neabel said, the show is doing well. She's had a wide range of groomings, from a small, short-haired Boston terrier named Winston to a 50+ pound black Lab named Pepper. And while she works with other people's dogs in the back, her family supports her up front, keeping an eye on her daughter and her own fur babies, Buster and Juno.
"I love being able to stay home with (my daughter) and still be able to work with dogs all the time," she said, smiling as she gave a golden retriever named Teddy a bath. "It just makes sense."
Editor Megan Blar can be reached at (315) 282-2282 or megan.blarr@lee.net. Follow her on Twitter @CitizenBlarr.