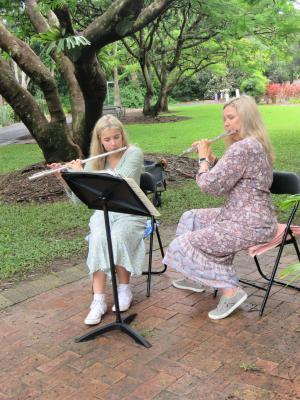 The morning of Sunday, November 7 will be a feast for the senses at Noosa Botanic Gardens.
There will be something for everyone, starting with the Touch from 9am to 12 noon, where you can join a botanical print workshop led by Sammy Ciganka and Margaret Moon, who will show you how to make unique Christmas gifts in the form of 10 self-made greeting cards. Reservations are required – visit noosabotanicgardensfriends.com
Your ears will once again be feasted on the sounds of light classical and modern romantic music from the talented mother and daughter flutist duo Sharelle and Jazmyn Guest, who will entertain you under the poinciana trees adjacent to the Shade Garden from 10am to 12 noon.
And let's talk about the Shadow Garden: it will also be open from 9 a.m. to noon, with a particularity being the first flowering of the jade vine in the gardens of Noosa, first discovered in the Philippines in 1841, and a marvel of the plant world to see.
And let's not forget the taste buds. The special garden coffee van will be at your disposal to quench any thirst.
Of course, you can make it a whole day, with plenty of secluded picnic areas spread across eight acres of beauty and serenity. You can even bring your dog (on a leash).
And put it in your diary: the next Friends of the Garden plant sale is coming up on Saturday, November 27, from 7 a.m.
Spring in the gardens is special. Don't miss out.
For more information visit noosabotanicgardensfriends.com