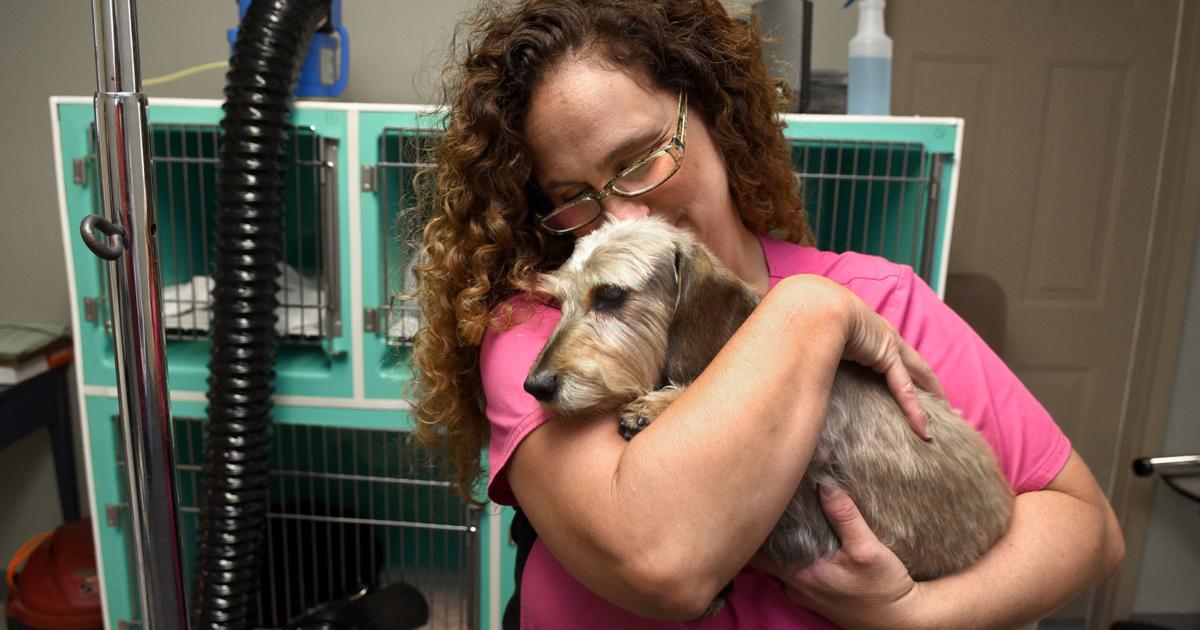 [ad_1]
AUBURN – A dirty dog ​​and a single moment of inspiration over 30 years ago led Christine Smith to pursue a career in dog grooming.
Like many people in her early twenties, Smith said, she wondered what she wanted to do with her life. Then one day, as she was sitting by the lake with her then-boyfriend watching her dog walk along the shore, this idea occurred to her: I want to be a dog groomer. .
"His dog was getting dirty, honestly," Smith said with a laugh. "I felt like it was a gift. It was just something that came to my mind and I accepted it."
This moment led Smith to what is now a 29 year career in dog grooming. She attended the Rochester Institute of Dog Grooming and was educated by attending seminars and trade shows and reading books.
"I knew deep inside that I wanted to do this and I love it," Smith said.
All new to the Auburn area, Smith said his entire career – including the move to Auburn – has always been very fortuitous. So much so that it became the name of his new company: Serendipity Grooming Salon.
For the past 24 years, Smith has had his own salon in the Marcellus area. But she said a new owner bought the building she was operating in and had other ideas for the space.
"So here I am," Smith said. "Life is changing, and this is my new path and I love her, I love her, I love her."
She added that her friend Renee Smith-Ward, the owner of Wag-N-Tail, had told her about the location of 1 Bradford St. in Auburn and had been trying to get Smith into space for over 15 years.
"I said 'OK it's time to take that leap of faith,'" Smith explained. "It's so good, literally almost everything fell into place."
Smith detailed her opening journey to Auburn while shampooing Beauty, one of her doggie clients who has followed her from Marcellus. She said she has been busy since opening on June 1, and while she has had a good number of customers following her, she is also building new relationships and grooming new dogs already.
Serendipity's services include dog grooming, bathing, haircuts and trims, brushing, fingernails, ear and gland cleaning – "you name it," Smith said. At the moment, Smith takes all breeds of dogs; however, her new space is smaller than she is used to. After having had a few large breed appointments, she said, she will see what it does and make a decision on sizes if she finds it does not work well for dogs.
"I want it to stay relaxed. It's my home away from home here," Smith said of her living room, explaining that she usually only accommodates two dogs at a time so she can stagger her. appointments throughout the day to schedule more appointments. – attention to each dog.
Smith imagines her services are similar to other groomers in the area, but noted that she has yet to meet any of the other local groomers. She eagerly awaits Smith-Ward to introduce her to the community, for which they already have plans.
Although she loved dogs all of her life, Smith admitted that her inspiration to become a dog groomer initially caught her off guard because she was afraid of dogs.
"I liked dogs before, but from over there," she laughed, gesturing to the other side of the living room.
"Some of the scariest things in my life are the things I want to do," she added, saying the fear of the water is also what led her to learn to kayak.
Much like his initial inspiration for his career, Smith said that some of the best things in his life "have just appeared," and the launch of Serendipity has, so far, followed the same trend.
Editor-in-chief Megan Ehrhart can be reached at (315) 282-2244 or megan.ehrhart@lee.net. Follow her on twitter @MeganEhrhart.

[ad_2]